"Enjoyment of what you are doing, combined with a goal or vision that you work toward, becomes enthusiasm." (Eckhart Tolle, A New Earth). Customer 3D organizations understand this transformation because they have intentionally chosen the success of their customers as the vision they are working for.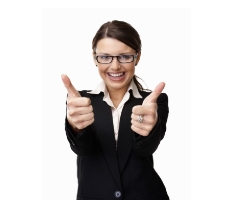 The system works because employees in an organization with enthusiasm realize that they don't have to implement new ideas all by themselves. Why? It happens because there is a feeling of creative energy that resonates. It is a solution to any tension between groups or functions with the organization because it is grounded in a non-confrontational behaviors that result in intensity, without a feeling of winning or losing.
Enthusiasm means that employees are fully present and that they know where they are going. They are aligned around a customer focus which is unlike any degree which a product-centered company exhibits. Their goal is not having something (money, possessions, etc.) but doing something meaningful. And when this doing is for someone else—the customer—it is much more satisfying and they become more effective. The enjoyment that employees have in the work they do or the product they sell expands to a new dimension built around the new goal of fully working for the customer.
Ralph Waldo Emerson famously said, "Nothing great has ever been achieved without enthusiasm." One of the unexpected byproducts of the Customer 3D system of becoming customer-centered is the beautiful increase in enthusiasm which it creates across the business. That is because it is generated by activities that engage employees with others rather than passively carrying out a transaction for or about a product. It is a new perspective, even though making and shipping products is still involved, which is far different from traditional business models. Employees are empowered because they have a new purpose.

RSS