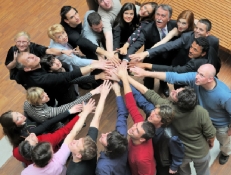 It's fascinating why some companies are so much more successful at relating to their customers. The reason is because of the organizational culture that they have developed and how their employees have been educated to work together.  A genuine focus on an "outside" common purpose, such as the success of customers, eliminates the silo mentalities that prevail in most product-centric companies.
In Click, Ori and Rom Brafman use the term personal elevation to describe the "gusto and energy" that result when people click together at an unusually high level. In these situations, the common bonds between people are so strong that they can "suspend the normal kinds of checks and balances that you might have in an enterprise." They illustrate the concept with a study of string quartets. Although all the musicians at this elite level of performing were talented, the biggest differentiator between successful and unsuccessful ensembles was the dynamics of each group." Those musicians that "clicked" outperformed the other groups, who approached their performances as strictly business and who did not have a close rapport.
This information does not surprise us. However, it can still seem difficult, almost magical, to make this kind of interaction happen in a company. The businesslike quartets were cordial, but they came across as less cohesive and less polished to the audiences because each member had his or her own vision for interpreting a given piece, which was not accepted by the entire group.
Within an organization, centering on customers and their needs transforms performance by overcoming any policies, procedures and territorial differences between employees or departments that could get in the way. When the core value of the organization rests on what is best for the customer, bickering suddenly disappears. A culture is created in which employees are part of a group that has "clicked" by being customer-centered.

RSS