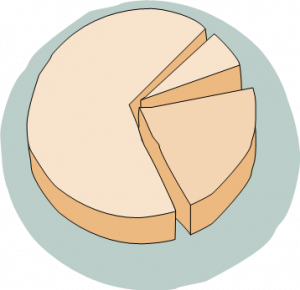 Shirley Taylor, recent President of the Asia Professional Speakers Singapore, is part of a vibrant mastermind group of professional speakers who are all growing their businesses. Instead of operating independently and struggling, they are now collaborating. Taylor describes it this way: "The concept is building a bigger pie."
What if we approached our customer relationships with this perspective? The leaders at Barlean's Organic Oils, for example, believe that their competition is not their enemy. This attitude contributes to their goal of building organic food products into an entire industry category, which will benefit other producers, as well as themselves. A bigger pie, in other words.
What if we believed that giving employees the freedom to explore new territories, in addition to the work that they are expected to carry out, was the path to the future? Google engineers are expected to spend 20% of time on new ideas. Since they are the best and the brightest when they are hired, allowing them to experiment makes sense. Whatever catches their interest could open new business avenues for the company. The opportunity to develop new services makes work more enjoyable for employees everywhere. It gives them the feeling that they are an integral part of the company.
At Barlean's, everyone is focused on improving personal health and helping reduce physical pain. That purpose allows employees to think expansively about how they can implement product and service innovations. One employee, who really cared about dogs, saw the opportunity for the company to market a line of pet-specific organic products. The pet supplements which the company sells today developed from one employee's idea.
The question we must ask is "How can we stop fighting over a bigger slice of yesterday's market? Instead, we should be asking how we can build something of value for customers, which does not presently exist." The answer is collaboration. As Taylor says, "collaboration is the new competition."
Instead of seeing scarcity and fearing the loss of business, progressive organizations are embracing collaboration as a core value. They are replacing restrictive concepts with imagination and creativity to find new concepts—a bigger pie. When the pie is bigger, it is easier to grow your business.
The stress of chasing a bigger slice of the existing pie rises out of the premise that the product you are selling is fixed and that it appeals to a finite audience of customers. When you reverse that thinking and believe that what you are offering can expand into new markets based on anticipating and solving customer needs, then the market becomes much more boundary-less.
When you see bigger, you think smarter.

RSS