These days, we have to think expansively about what customers really want when they buy from us. The product or service that you offer can no longer be looked at as satisfying the narrow "space" that it was created for.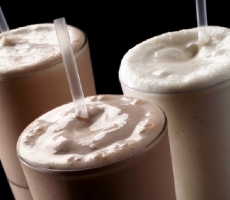 Clay Shirky, in Cognitive Surplus, shares an unusual story about discovery through observing customers. When McDonalds wanted to improve the quality of their milkshakes, almost all of the hired researchers focused on the product only. Should the new version be sweeter, or thicker, or colder? One of them, Gerald Berstell, however, chose to study the customers themselves. What he found was that milkshakes were purchased early in the day, during the traditional breakfast time.
It turns out that the breakfast-shake-drinkers were commuters who would drink them while driving to work. They were "hiring" the product, instead of a traditional breakfast item, because it could eaten with one hand, wasn't too hot or too messy and it took a while to finish. The researchers were about to overlook this dimension because of what Shirky calls 'milkshake mistakes.' First, they concentrated only on the product attributes and assumed they knew everything about why customers were purchasing it. Secondly, they took a very narrow view of the market—in this case the type of food people typically eat in the morning. They did not account for customers "needing food to do a nontraditional job—to serve as sustenance and amusement for their morning commute—for which they hired the milkshake."
Most companies believe they know what the market needs and that customers will either buy it or not. Ultimately, however, customers will decide what they are hiring you for. Customers are the sources of your best ideas, if you allow them to be by observing and changing based on their needs. Ask yourself, "Why does the customer hire our product or service?" But don't make the 'milkshake mistake' of thinking only of the product attributes, without regard to what role the customers want it to play for them. Jan Fulton Suri of IDEO (Thoughtless Acts?: Observations on Intuitive Design) says it this way: "Observation forces us to focus on the actions that we are trying to support through design, rather than the things we will ultimately produce."
Products don't exist in isolation with narrow uses anymore. The milkshake mistakes are a fantastic illustration of why not to be product-centric. By being customer-centric, you will you position yourself to notice things that you hadn't noticed before and the outcome will be better for your customers. Your creativity will increase and so will your proactivity in designing new ideas for those customers.

RSS