Different by Youngme Moon will dramatically change what you think about the battle to stay competitive. She does a great job in describing what customers see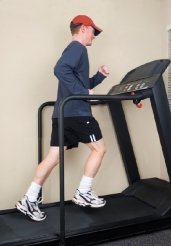 in terms of sameness among brands. Companies, however, should use her insights as a springboard to creatively deliver the products that customers really consider better than the competition—because they have been designed with customer needs in mind.
Her phrase "running to stand still" refers to companies in hyper-mature markets, with little growth, that are frantically working to differentiate themselves from their competitors through minor changes that are almost unnoticed by customers. These companies are driven by  "assumptions embedded in our competitive practices simply crying out for re-imagination."
In most cases, the problem is a reluctance to risk significant changes. By focusing on what competitors are doing, organizations try to tweak small features and wind up delivering many kinds of sneakers, or shampoos, or luxury hotel amenities that seem to be the same as their competitors offer. Companies are asking: How can I look different without really changing a lot? They know that the world is changing faster than ever before, but they still want to play it safe.
Companies should be asking: What things are our customers missing that we could give them (which will make us really different)? Being customer-centered is the essence of differentiation.
In the Quality field, there is a Cost of Quality concept. Essentially it is a measure of  failing to deliver quality products and services. The lower the number, the better. The theory behind the Cost of Quality metric states that the more time that is spent on up-front (Prevention) activities, the less time will need to be spent afterward on assessments and dealing with problems.
What if we had a Cost of Differentiation to measure not being different? It would quantify the potential impact if an organization gave customers greater value than its competitors are currently providing. It would also encourage more proactive ideas from the company to stay ahead of the curve. The Cost of Differentiation in the MP3 player market before the iPod was introduced turned out to be millions of dollars.
When suppliers embrace customers, rather than watching what competitors are doing, the game changes. Not only does the customer benefit, but confidence in their ability to answer customers' needs improves dramatically, leading to even further innovations. Focus on new ideas for customers. That is the only way NOT to stand still.

RSS