Paul Adams in Grouped, reminds us that "in a world of too much information, people turn to their friends." In business, your customers want you to be relevant to them. That means interacting with them differently than you did ten years ago.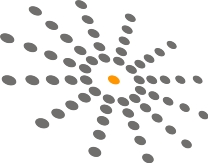 Organizations are buying into the philosophy that, in order to develop a relationship with their customers that goes beyond transactional accuracy and employee courtesy, they need a new dimension in their approach. It's an emotional connection that is built on authenticity and trust. In other words, your organization has to be important to those customers.
The premise that customers want a relationship with organizations they can rely on as a source, based on positive successes has not changed because of social media. What has changed is our need to understand how these networks scale. The old-fashioned model that believes organizations create customer loyalty through transaction-based encounters is inadequate to explain what today's world expects. Organizations that understand becoming the "go-to" company for information and expertise that their customers value are superseding this model by creating a network effect that is now far more important. That is the space which future customer loyalty will occupy.
Adams points out that the majority of our communication is with the people (or organizations) with which we have the strongest ties. Imagine that you define your purpose as being the pro-active source of information about your expertise. What if you transformed your company to become a hub of valuable information and a destination to spread your latest ideas? That is relevancy that matters to your customers.
We are launching a website in four weeks which will introduce a new dimension of relevance about customer closeness. It will change the way you think about customers and will be a source of information about this new thinking. It will be called Customer 3D™. A new, more positive direction for the customer relationship journey is beginning.

RSS