Professor Theodore (Ted) Levitt deserves the first entry in the Thinking-Like-a-Customer Ideas—Classic version.
In The Marketing Imagination, 1983, Levitt asserted that people don't buy things but, instead, buy solutions to problems. He called it a "leap from the obvious to the meaningful." One of his memorable examples referred to Leo McGinneva's quote about why people buy quarter-inch drill bits: "They don't want quarter-inch bits. They want quarter-inch holes."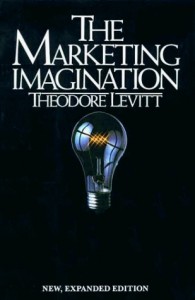 Benefit to the Customer:  He changed our thinking about customers by focusing companies on "the discovery of the simple essence of things." Before his insights, businesses were locked into the belief that the purpose of their existence was to make profits by selling products. Customers were an inconvenient necessity to keep companies going, important only because they bought the product being sold.
To read a wonderful tribute to Ted Levitt's influence and his ground-breaking ideas about customers and marketing, click here: http://hbswk.hbs.edu/item/6054.html

RSS