The National Car Rental television commercial featuring John McEnroe has been seen by many Americans in the two years that it has been shown. It is memorable and entertaining. However, it also provides us with an important lesson about how customer-centered ideas are really originated and deployed.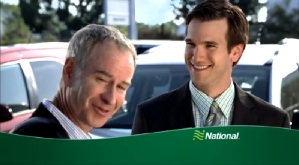 In the commercial, of course, McEnroe is prepared for a confrontation with the National salesperson because other car rental companies typically assign a car to him without his input. Like most customers, he has been negatively conditioned from years of encounters with supplier-centric companies, which have established policies that are best for them. Unexpectedly, John is told that he can choose "any car in the aisle." Surprised, he responds with his signature line — "Any car…??? You cannot be serious!"
There is a subtle concept revealed in the McEnroe commercial. John's being 'wowed' was not caused by a courteous National employee, although the employee was, in fact, very courteous and upbeat. McEnroe's delight was delivered because the organization recognized an opportunity to make customers' lives easier and changed its policy.
Customer-centered organizations create positive customer conditioning. But this positive feeling must develop through a system that delivers great company-wide ideas, not through transactional courtesy on the part of individual employees. Every organization's goal should be to design a culture that imagines itself on the receiving end of encounters and automatically thinks like its customers.

RSS