Your customers, by definition, are outside the "four walls" of your organization. Progressive, successful organizations, however, look for opportunities to invite customers to participate in their internal activities. It is a remarkable way to clearly validate customer-focus to all of your employees. It is also a way to inject new thinking that otherwise may not have happened, by allowing customers to demonstrate how they think.
Dave Ulrich in his article "Maximizing Creative Collaboration" in Leading Beyond the Walls: Wisdom to Action Series, writes, "To create value, leaders need to focus on connecting what goes on inside the firm with what goes on outside the firm-and act to connect the organization's programs to customers."
He challenges leaders to ask "why?" to the value of the actions they create by understanding who will receive the benefits of their decision. The technique he proposes is to follow with a "so that..." question which:
• Identifies a receiver
• Focuses on what they deliver
• Must be able to prioritize
To be effective, this action must connect the inside action with an outside result. For example, a decision should be able to hold up to the scrutiny of answering the query, "so that the customer will... (describe the benefit)."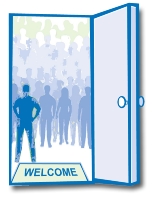 Another way to bring customers "inside" is to ask them to participate in internal activities. Examples include:
--A restaurant invites customers to taste selections from finalists for a new chef position
--A manufacturing firm invites customers to join the team that is defining competencies for first line supervisors
--One of our clients that serves consumers directly, opens its staffing decision to customers. Customers participate in the interview process and help select new employees whom they believe will add value through new approaches. It increases the consumer commitment to the person hired.
--Opening in-house programs to customers. An oil company invited customers to training for their sales force on a new product. The region that did this outperformed another region that did traditional one-to-one sales efforts by 10-to-1 in sales during the first six months.
This is not volunteerism. Instead it is inclusion. Sharing newsletters and other public communications helps transfer knowledge. A maker of heart valves has customers speak to employees after the surgery, creating employee commitment to the personal side of how their product saves lives. Customers feel engaged and become advocates for your company to a level that transcends mere satisfaction. The process of wanting to have customers participate in the inner workings of your organization makes an anachronism of the old-fashioned sales pitch.
This approach represents more than simply connecting. It is the belief that customers will find value in joining your organization's inside activities. However, it does not give customers the voice, but a voice. It is grounded in the fact that participation by your customers will make your own company stronger and that they will help you and your employees in a solid learning experience about how to think like a customer. It is a great example of thinking like a customer and it is a low-cost investment that pays huge dividends in company culture and customer trust.
Why don't more organizations invite their customers into their management corridors to benefit from the wisdom of those participants? Certainly there is the feeling that the management of the company knows what is right and they don't want to let go of that control. Or, perhaps they are afraid that customers will influence decisions in a way they don't want to go? Ironic, isn't it, that they don't trust their customers, yet they expect their customers to trust them.
They can't see the upside-the enthusiasm of customers, which will spread beyond the ones who were allowed inside the four walls to other customers who simply enjoy the openness of a supplier and who passionately want to do business with that company. It takes an organization that is confident and yet humble enough that they want to get better in order to be willing to open up in this way with their customers. These are the ones who will grow organically and continue to outperform their competition.
How many opportunities do you have to allow outside customers to participate in your organization's advancement? If you have stories of successes with inviting customers to participate in activities which are traditionally kept inside of organizations, I would love for you to share them.

RSS