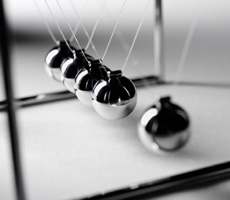 I believe that every process in our organizations can be improved from a customer's viewpoint. I also believe that innovation can only happen if we ask the right questions. In order to achieve a culture of continuous improvement, these questions should be the ones our customers are asking about us. Success depends on never standing still.
Remember the paging system for restaurants that was introduced in the 1980's by JTECH and others? (Creating Competitive Advantage, by Jaynie Smith) The electronic signaling technology was originally created simply as a way for restaurant employees to communicate in order to get customers to open tables more quickly. But when these lighted buzzer devices were handed to the customers, the idea resulted in fewer patrons walking away from the restaurants that used them and more convenience for customers who did not have to listen for their names to be called from a waiting list. Life became easier.
Now, Somtu MMS (mobile messaging system) has a new service in which text messages, such as "Your table will be ready in ten minutes" can be sent to your mobile device (Tuned In, by Stull, Myers and Scott). Life got even easier for customers (and a little cooler) and the 1980's solution could be obsolete in the future.
No organization can afford to stand still. The best way to avoid inertia is to think like a customer. Because innovation is on a continuum, companies must constantly evaluate where they are. As Margaret Wheatley and Myron Kellner-Rogers observed in A Simpler Way, "there are no windows of opportunity (that will eventually shut) but infinite possibilities." Searching for these possibilities helps businesses learn how to sustain the energy for customers which they had when the company first began.
The mindset that organizations should embrace is one of invention, not survival. Learn to experiment. Be inquisitive and willing to ask questions. Work is not a test in which you must fear not getting the solution right the first time. "Look for what works, not what is right." (A Simpler Way). Once you start, you never will want to stop. Wheatley and Kellner-Rogers said it this way: "The surprise within the surprise of every new discovery is that there is ever more to be discovered."
So, build a company whose culture is grounded in tinkering with existing systems to discover what is possible. Encourage teams to have "constant awareness" by asking these types of questions:
How can we make this product or service more valuable to the customer?
Are we evaluating each customer touch-point by the same criteria that the customer uses?
What transparency can we add to ensure that customers fully understand our processes?
How might we better anticipate customer needs?
Don't lose your inquisitiveness about how to improve. Your customers don't want you to stand still. They want you to pull them into the future with new ideas and services. That is why they are buying from you now and will rely on you in the future. Customers recognize that the sense of discovery in your organization means that you won't be the same as you were a year ago—you will be better.

RSS