People have asked me what we mean by Level 2 and Level 3 customer-centricity. In response, we have just published a white paper explaining these performance categories and how these behaviors can be brought into the fabric of organizational culture.
In the paper, I discuss, for example, high amplitude, which is one of the outcomes of performing at Level 3. Amplitude describes the fullness that is created when the cultural shift is made. In the food industry sensory-analysis experts use the term to describe food flavors that are blended and balanced.  We all recognize the superiority, for example, of a gourmet chocolate chip cookie, when compared with the packaged off-the-shelf brands offered in a grocery store. Achieving this blend requires focus and is much more complicated than simply saying "Go out and get a better recipe."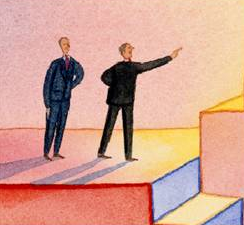 In the context of customer-centricity, high amplitude represents the convergence of all efforts on behalf of the customer, which is the destination of the Level 3 journey. Level 3 is a system, not a recipe. It is the blend and balance that customers experience and remember when they work with any organization.
The paper also addresses benefits. Operating at Levels 2 and 3 is the best way to rise above mediocrity and away from the gravitational pull to commodify your products and services. The white paper outlines many of the advantages that accrue to organizations that move away from the old supplier-centric business model and embrace solutions that are customer-centered. Its power is generated because it is a comprehensive system that permeates the silos that exist in most businesses.
I encourage you to download the white paper and distribute it to your colleagues. There is no registration necessary.
Customer-centricity at Level 2 and Level 3 is really different than Level 1 transactional customer service. Navigation toward becoming customer-centered elevates companies above complacency and is the most unifying force in the culture of successful organizations. It is designed around a feeling of wholeness, which is grounded in the philosophy that our work is incomplete without customer closeness combined with proactivity that adds value. It is a powerful and sustainable game-changer for companies that commit to making the journey.

RSS