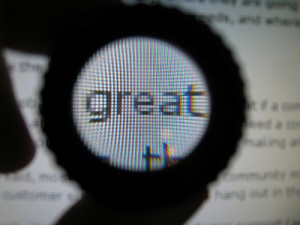 It's amazing how organizations believe they can become great while ignoring their customers.
Jim Collins' How The Mighty Fall: And Why Some Companies Never Give In builds off of his Good to Great and Built to Last tenets to analyze how successful companies get better, or conversely, how they decline. He describes how companies can under-perform by forgetting their "passionate adherence to management discipline" and not being "vigilant for markers of decline." I do applaud his effort to explain why some of the star companies from his Good to Great book ultimately failed. He blames "over-reaching" by management, rather than complacency or hubris as the reason for the fall of many once-great companies. But to what degree did lack of customer focus play into their vulnerability?
Unfortunately, in How The Mighty Fall's 182 pages of text, there are only two brief mentions of customers. Collins does not discuss the possibility of these companies failing because they "took their eye off the ball" regarding their customers. For example, I had several unpleasant customer experiences in Circuit City stores and was always astonished at how they even survived, much less made Collins' Good-to-Great short list. Since Collins' greatness test was essentially stock performance, it was difficult to tell what the customer-facing culture looked like in any of the companies that he wrote about.
Collins has written some of the most significant business books in the last decade because they make tantalizing cases about how average companies can become great. However, The Halo Effect author, Phil Rosenzweig describes how Collins' book formula plays on "the dream of emerging from obscurity to fame and fortune" that has been an essential element in storytelling for centuries. Everyone has that dream, of course, but I believe there is more to business success than Collins suggests.
His books do not tell the story that the real driver of success will always be connecting with customers. The dirty little secret of business is that we continue to believe that we can be successful by focusing only on the inside-the products and services that we make.
Uncertainty in an organization's customer direction is a recipe for poor results. Conversely, strong, pro-active customer focus is the best way to develop higher performance. In many cases, the excellence that is reflected in stock prices and higher sales emerges largely from great customer relationships, not the other way around. Business executives can become confused about cause and effect. They see customer loyalty as the effect of their great leadership, whereas the strategy should be to make customer loyalty the goal and the main ingredient that organizations must work for to ensure their success. The customer component simply doesn't get the credit that it should as the foundation of achievement.
Every business book claims that it can crack the code of business success but most of them ignore the importance of focus on customers. Greatness cannot happen without customers. In fact, greatness is defined by customers. That is the reason to concentrate on customers' needs first when designing your culture and your deliverables. Teach your organization to think like a customer and greatness will follow.

RSS