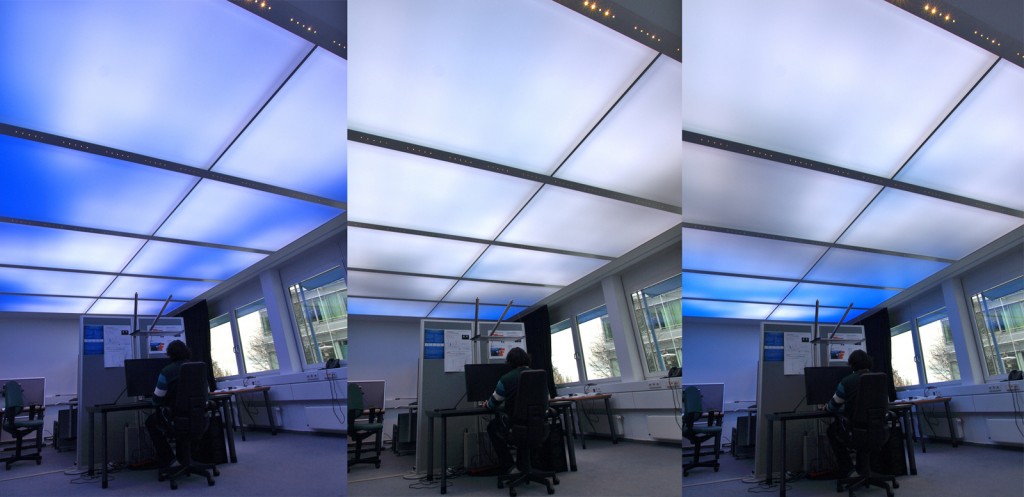 Fraunhofer's website clearly states their motivation: Research that benefits people—that "has a significant impact on people's lives."
They have developed many products, methods and techniques in the following sectors: Health, Nutrition and Environment Safety and Security; Information and Communication; Transportation and Mobility; Energy and Living; Environmentally friendly production. Here is one example:
Before:  Research has shown that natural daylight is better for humans than fluorescent bulbs that many offices contain. Adding windows or simply improving artificial light has resulted in increased productivity and has reduced the number of sick days, headaches and cases of eyestrain among workers.
After:  Scientists at Fraunhofer developed an office ceiling that imitated a daytime sky, including gently drifting clouds. Natural daylight includes a balance of all colors of light—even blue wavelengths which are scarce in incandescent and energy-efficient fluorescents, so Fraunhofer build in LED's that can produce 16 million hues. It even caused the light to change over the course of the day, like a sunny day with moving clouds.
Their tagline states, "We Forge the Future." To learn more about Fraunhofer-Gesellschaft, click here: http://www.fraunhofer.de
Dynamic luminous ceiling image is copyright Fraunhofer IAO

RSS