Most organizations are held back by traditional strategies that cause them to act in familiar, repetitive ways. The successful ones, however, have embraced design thinking to allow the emerging importance of customers to overcome this inertia. Design principles will help all organizations to begin thinking like their customers in developing innovative process improvements.
Alex Bogusky's award-winning "Truth" antismoking campaign was designed to combat the increasing rates of teenage smoking. Teenage customers are not the easiest audience to change, especially when cigarettes provided everything they wanted: the need to establish an identity, association with distinctive brands, the urge to rebel, and an adolescent eagerness to take risks and confront danger. The 'it'll-kill-you-kids' approach had not worked, so Bogusky changed the question from 'Why don't teenagers care about the possibility of dying?' to 'What do they care about?'
After extensive ethnographic research the team realized that teenagers really cared about being manipulated, used, and "played." Bogusky developed a movement to direct that adolescent need against the "shady sales tactics employed by the tobacco industry." The campaign shared information about "the misdeeds of cigarette makers, citing examples of cover-ups, phony ad claims and outright lies." He even had teenage demonstrations outside of tobacco company headquarters, including bullhorns and body bags. The result was an average decline in smoking of 38% among middle and high school students in Florida.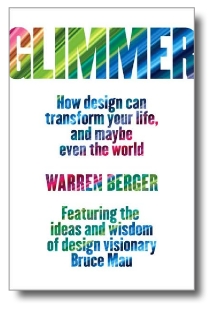 This story and many others are part of Warren Berger's Glimmer. It is filled with great lessons about design thinking and techniques to meet human needs that draw on designer Bruce Mau's Incomplete Manifesto for Growth.  Read it, however, from the viewpoint of a fresh way to better your customers' experiences. There are many great examples of how to "reboot and rebuild" your customer connections by simply seeing the possibility of a better solution and acting on it.
Roger Martin, dean of the Rotman School of Management, has called design thinking "the productive combination of analytical thinking and intuitive thinking." Design thinking is not superficial; it is purposeful.  It follows rules and proven principles. It is relevant to business because it is driven by a set of skills that can be developed in any organization. It is the optimistic way of the future, focused on discovering and implementing new ideas for customers. In fact, design thinking can only be successful when it approached with a positive bias for customers.
Glimmer challenges all of us to "design for emergence." Visionary organizations with eyes on the future are, indeed, questioning the status quo and designing solutions that will help their customers emerge into a more abundant situation. Design thinking can be the catalyst that businesses use to stretch their thinking on behalf of customers in order to create and implement ideas that would not been thought of a few years ago.

RSS