A customer-centered system can translate into a great customer experience because it delivers a logical outcome that makes employees look like heroes in the eyes of their customers.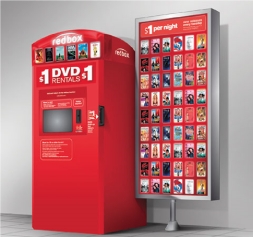 Recently I rented a movie from Redbox but, at home, the DVD would not play (because of a sticky coating left by the previous user).  I returned it to the kiosk and telephoned Redbox Customer Assistance to report the problem. The result was a very satisfying experience at three levels.
Level 1: I experienced very friendly handling by the CSR on the phone. He handled the "problem gap" professionally because he was able to view the entire transaction based on his records. The only thing he asked me was the last four digits of my credit card and my zip code, simply to verify my identity. In addition to refunding the rental fee, since my family was unable to view the movie, he added an additional free movie rental for the future.
Level 2: Then, he explained their internal process. He could disable the DVD automatically in the kiosk so that no customer could rent the movie (and encounter the same problem I had) and their employee would be notified to remove the faulty DVD on the next re-stocking trip to the machine. Tying the barcode of the DVD into their system allowed every step of the transaction to move along smoothly. He also thanked me for being a loyal customer, told me how many rentals I had made during my history with them and made me feel welcome with personal knowledge of my account.
Level 3: There's more. The CSR explained the history of Redbox, which had been started by McDonalds with seven kiosks in Colorado in 2002. (They are owned by CoinStar and are now up to 22,000 kiosks and growing). They have also developed an online reservation system in which you can reserve the movie titles in advance, allowing you to know where the movie will be available and to browse the movie selections in the comfort of your home. Customers who have reserved their selections can breeze through the pickup process.
He also told me about their future strategy. They are studying download technology for their customers, in anticipation of a time in which the cost of streaming movies will drop significantly and downloads will replace rentals of DVDs at kiosks. Meanwhile, they are performing extremely well in the markets they are serving. There was a lot of abundance being delivered to the customer throughout the interaction.
One simple transaction built an incredible amount of trust. I know that solid problem-handling should be a staple of any service organization, but this one was all done effortlessly. In addition, the company took a potentially one-dimensional damage report and turned it into a three-dimensional customer experience. You know you have had a good encounter with an organization when you are actually glad that you had a problem so that you could experience the excellent handling that you received. If Redbox allows downloads in the future, I will certainly believe in their "brand."

RSS