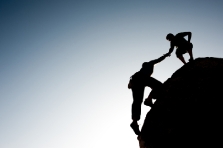 "The future of search is verbs." Bill Gates made this comment to Esther Dyson to describe the transition to a new mindset, in which, as the world becomes more familiar with high-powered search engines, people "aren't looking for nouns or information; they are looking for action." (quoted in Curation Nation). The same concept is true in our response to our customers. Customers' needs are no longer simply to buy or purchase. The expectation of the relationship with their suppliers has shifted to dramatically different verbs. The actions that they now care more about are to:

Products satisfy those needs only at a basic level. Therefore, exceptional organizations have moved beyond the verbs that ordinary, traditional companies continue to use—sell, push, serve, react, retain, and lock-in. Customer 3D™ organizations have created strong cultures in which all employees are experts at doing the following for their customers:

Going forward, the successful business has to be focused on the new relationship that customers expect from their suppliers. Customer 3D™ creates a system to be mindful of the new customer verbs and to embrace the opportunities for organizations to take care of these higher level customer needs.

RSS