In my presentations, I frequently set aside some time to experiment with creative techniques for visualizing new ideas for customers. It's a great way to "shake up" the status quo and jump-start the innovation process for the benefit of customers.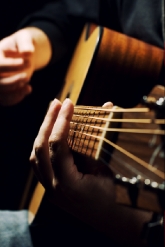 Lisa Aschmann's 1000 Songwriting Ideas is a fantastic source of these ideas. She has developed a compendium of very creative premises for "songs" that should trigger tens of thousands of ideas within your organization. I, of course, see them all through the scenario of how they should be written to invent new approaches that will benefit your customers. Here are two examples:
Idea #922. Finish the sentence: "…and nobody objected." If you focus your answer to ways in which you can help your customers and nobody objected to them, shouldn't you implement them? Now, develop these ideas into a song with several verses and how your customers would react. Let a group of your colleagues analyze the song's ideas and actually expand them into some simulations of things your customers will like. Sounds like fun to me—and beneficial, as well.
Idea #713. Imagine yourself in some club before the band is going to launch into your tune. Introduce the song by talking about some aspect of its premise (customer-related, of course) without identifying its title before you perform it. How about, "This song tells the story of a change that a service business (name your company) made that made life unbelievably easier for its customers." Then, expand on how this idea replaced a more traditional system and how the customers thanked your company for the innovation. It could be the source of some very creative changes that your customers will love—and you get to role play as the "performer" introducing your song.
Aschmann has created some extraordinarily clever ways to help us become more open-minded—to find what she calls our "beginner mind." You don't have to be musical, although you might learn that you are more musical than you give yourself credit for. The secret she delivers in her book is that the music path will help us overcome our fear of rejection and open "the floodgates of inspiration." I encourage you to experiment with some of her song scenarios. They will help your organization overcome self-imposed limitations so that you can do great things for your customers.

RSS