It's inspiring to read the "classics" in business books. Put in context of the business practices of 2010, they give us new perspective on how we should operate and they remind us of timeless truths about customers.
I recently finished A Technique for Producing Ideas, by James Webb Young. Written in the 1930's, it is an interesting reminder of how we can develop our creativity for our customers. Young's writing has a genuine, matter-of-fact quality. It is refreshing to know that the old model for finding new ideas has not substantively changed. He first defines an idea as "a new combination of facts." The success in generating innovative thinking becomes stronger when our "ability to make new combinations is heightened by our ability to see relationships."
Young compares the idea-searching process to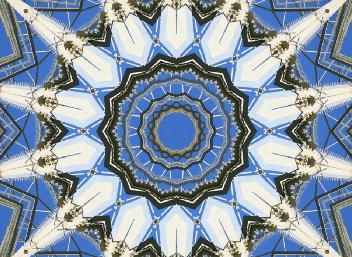 what occurs in a kaleidoscope. This toy has little pieces of colored glass in it, and, when viewed through a prism, they reveal new geometrical designs. Every turn of the cylinder shifts these bits of glass into new patterns. The more pieces of glass that are introduced, the more possibilities that will be available for new and exciting combinations. The same possibilities exist for inspiring customer-centered ideas in all organizations. A greater variety of experiences that our teams have will inevitably lead to fresher ideas within our organizations.
Too often, we mistakenly believe that ideas which will benefit customers will arrive magically and so "we sit around hoping for inspiration to strike us." Young shows us that, instead, new combinations develop through persistence and use of a repeatable method. As he observes, "this (idea-generating) technique can consciously be cultivated." He suggests a formal process for documenting specific information, which can be synthesized or "digested" when searching for new ideas.
Finally, he suggests to stop straining for ideas, but rather, to use a "period of rest and relaxation" while still "constantly thinking about it." Think of how we gain new insights into solving a puzzle which we return to after a break. As long as we stay focused on what the customer values, time away from idea generating will actually bring fresher insights.
The takeaway from James Webb Young and more contemporary firms, such as IDEO, is that ideas most often happen through a systematic and collaborative process. Our ability to combine our experiences and direct them to improvements on behalf of our customers is essential to customer-centricity. Like a kaleidoscope, the more facets that we consider, the richer the opportunities for those customers. However, we cannot forget that generating new ideas involves an operative technique that we have to work at.
Organizations that want to develop an effective process for designing new, customer-centered solutions need to educate teams of employees to make the most of ideas and encounters they have experienced. When they embrace the fun and the complexity of patterns and relationships, as in a kaleidoscope, employees feel more comfortable with unleashing their creativity to benefit their customers.

RSS