I love it when people shake up the way we think. That is what we need in order to stay competitive in today's business environment. A growing number of new thought leaders are helping us to understand that the best approach to bringing about positive change is to structure our actions around being customer-centered.
Pip Coburn, in The Change Function: Why Some Technologies Take Off and Others Crash and Burn, describes the dilemma of innovations that changed technology and lowered costs (reinforcing Moore's Law) but which caused organizations to become so self-absorbed that they ignored what customers wanted or needed. This leads to all kinds of distrust among customers. The fail in many supplier-centric changes amounts to technology solutions looking for a problem. The opposite should be the model in your organization.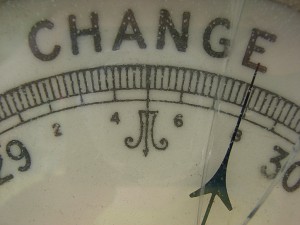 The reason many people hate change is that it is foisted on them. They didn't ask for it. It does not make their lives easier. If it doesn't help the customer, then it will only provoke discomfort. Innovation (in products or services) is not a company's primary activity. I understand that we have businesses to run and that changing anything can get in the way. However, what if we view change as an opportunity rather than an interference with 'business as usual'? What if we develop a culture around the customer that aggressively asks how we can make this better for the customer? The payback can be enormous.
David Plouffe, the guru of President Obama's 2008 campaign strategy, described the connection with American voters as "Meet them where they live." In building his grass roots infrastructure, he "ensured that volunteers were as close to the campaign as the campaign management." This successful model was built on not only better information and better process, but insight: insight into what customers (voters) need to make it easier for them to engage with your organization, whether it means buying your services or participating in your campaign. What will customer-centered change bring you? Trust from your customers—and that should be the primary goal for every organization.
There is a renaissance happening that is shifting organizations to thinking like a customer. In between the research/engineering function and the marketing experts these organizations are filling the gap with independent thinkers that have the ability to design solutions viewed through the lens of the customers.
What makes change "sticky"? Customers embrace innovations that make their lives and tasks in their lives easier. Customers don't want supplier-centric ideas pushed onto them. They want their user experiences to become better and better. That's where your change initiatives must be focused.
Photo by Greg Melia http://www.flickr.com/photos/gregmelia/2277690112/

RSS