Deciding to become customer-centered is just that: a decision. And it should be an active decision, or other priorities will dilute it. Why? Because it is a matter of reinventing the way in which a company does business. Without full commitment, the change that is necessary will languish and it will never rise out of the "good intentions" status.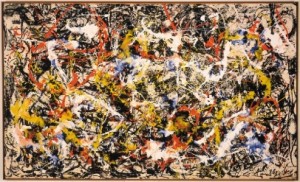 Jackson Pollock said "Every good painter paints what he is." Customer-centering does not happen simply by adopting that tagline. It happens because the business sees the customer as its purpose. If an organization is built around efficiency and controlling costs, that leads to a culture of passivity. Active decision-making involves advocating for the customer.
Decision-making should be mindful of the customer. That transforms the process from a mechanical inevitability to one that is personal and imaginative because it is focused on the customer. While at first it might seem that we are giving up control, we are actually looking at situations intelligently and understanding how they differ from the past. We become more creative when we approach decisions from the customer's viewpoint.
The paradox is that being customer-centered provides more stability to our organizations than the presumption of stability that appears to exist in a rules-driven approach. It generates greater balance. It is the scaffolding on which workers can stand while they are carrying out their labor.
The transformation takes time, but it never works unless it is intentional. Random efforts will not be successful if you are trying "to make a dent in the world," as Steve Jobs set out to do.
Customer 3D™ organizations create customer-centricity by instilling freedom and flexibility into their decisions and employees know they are empowered to do the right thing. It is more purposeful and natural. The litmus test is this: If the consequence of each decision is a productive outcome for the customer, then it was a correct decision that will allow the organization to prosper.
Jackson Pollock (American, 1912-1956). Convergence, 1952. Oil on canvas. 93 1/2 x 155 in. (237.5 x 393.7 cm). Gift of Seymour H. Knox, Jr., 1956. Albright-Knox Art Gallery, Buffalo, N.Y.
© The Pollock-Krasner Foundation/Artists Rights Society (ARS), New York

RSS