The greatest challenge of escaping the sameness of your product or service is to stay ahead of what your direct competition offers. Adjust the space that you operate in. That is, design and sustain a service that is truly different from the rest of your market segment. The key, of course, is to make certain that this difference is recognized by your customers. In other words, be notable.
Tara Hunt, in The Whuffie Factor, devotes an entire chapter to "Be Notable." Whuffie (or social capital) is gained or lost through negative or positive actions. People will connect with a company through amazing customer experiences because it has given them "something that moves them." She cites numerous businesses that injected fun, imagination and experimentation into their cultures, which made their processes memorable and created an emotional connection with their customers. Amazon, for example, designed a universal wish list that customers may use to share products from other websites that their friends can purchase for them. Although Amazon gets no commission, it "realizes that its customers are multi-brand loyal and by sending them away, they are sure to come back on their own volition."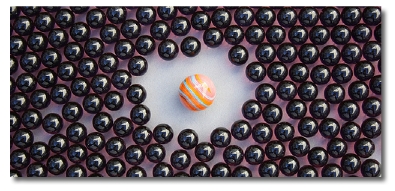 Another example that illustrates Hunt's appeal to "go above and beyond" appeared recently in a story about Hyatt's treatment of its most loyal guests. In a blog post from CEO Mark Hoplamazian, Hyatt facilities are beginning to recognize their Gold Passport members with "authentic hospitality." They are empowering employees to perform random acts of generosity, such as "comping" a massage or picking up a bar tab for a very loyal member. According to www.springwise.com, it is "a shining example of the kind of corporate generosity that's increasingly being...offered by clued-in brands."
Elite customers are now expecting higher-end recognition of their status. "Loyalty programs only work to reduce price competition where the rewards to loyalty are substantial, and customers as a consequence concentrate their purchases." (Bruce Greenwald and Judd Kahn in Competition Demystified) The way to make these rewards more "substantial" and to raise the commitment of already loyal customers is through the human side of the relationship. After all, these are your ideal clients—the types of customers that you want to work with. Why not single them out with high-touch, personalized value. Address them with "corporate" self-confidence rather than anxiety that they will take advantage of you.
This is upstream thinking. These top customers have already proven that they like your value. Now, help them build a stronger relationship with you. The ability to see how addressing the needs of select groups of your most loyal customers will be the new differentiator that will grow your bottom line. The successful companies with the most loyal customers will be the ones that give people something to pay attention to and that create the desire to tell many others how "This company's employees really know me as an individual". It is no longer about gathering better information; the secret is in better use of the information that you already have about these premier customers. It is specialist performance rather than generalist.
The more notable you are, the less susceptible your customers are to the lure of lower pricing somewhere else. It's customer performance that manifests itself as palpable. Amazing outcomes are grounded in a culture of abundance that embodies a willingness to look for how to add value to customers. It's the kind of treatment that makes customers want to tell twenty of their friends personally or post a story on the web to thousands. Breathe life into your customer relationships because winning is more fun than losing. Give your customers your best. Be notable.

RSS